"Thank you for your superb performance on 'In a Sentimental Mood.' Your lyrical, stylish trumpet breathed life into the track, inspiring not only my vocal performance, but the entire band's as well."
--Billy Joel
"I remember well our first meeting 24 years ago at the Woodland Golf Club. Now that I am General Manager of Charles River Country Club, I have been thrilled to welcome Winiker Music here. You and your musicians seem to work magic."
--Daniel C. O'Conner
General Manager
Charles River Country Club

"I wanted to thank you so much for everything you did at the Consul's Ball on Friday, April 25. The band was spectacular as always. A bunch of people told me that the music this year was the best ever! The Motown Mashup was my personal favorite. I really appreciate how flexible and friendly you always are. Your music really brings the night to life! Looking forward already to the Consul's Ball in 2015!"
-- Allison Smith
Program Manager
United Nations Association of Greater Boston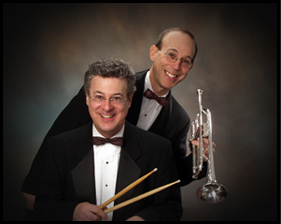 Bo Winiker
Bo Winiker began his professional music career at ten years of age, performing in his hometown of Millis, MA alongside his mother, father, and older brother as the Winiker Family Band. Bo went on to graduate from the New England Conservatory of Music, where he joined the Grammy-award-winning New England Conservatory Ragtime Ensemble. Bo remained a member of the orchestra for 25 years, touring around the world under conductor and former NEC president Gunther Schuller. From 1972-1973, he was featured as the Stan Kenton Orchestra's trumpet soloist and has also soloed with the New York Philharmonic and the Cleveland Orchestras. In 1992, Bo recorded the movie soundtrack for "A League of Their Own" with Billy Joel. He has performed at the White House for President Ford, at President Carter's Inauguration, and at Bill Clinton's Inaugural Ball alongside the incredible Aretha Franklin. This year, Bo was honored to take the stage at Symphony Hall to lead the Boston Pops Swing Orchestra for his 5th consecutive sold-out New Year's Eve Gala. When Bo is not working with the Pops, he and his band members can be seen performing throughout New England at a diverse range of parties and events. Bo's horn playing, singing, and band-leading have been described as captivating, and he brings his infectious energy to every performance, no matter how large or small the stage!
Bill Winiker
Known for his light touch and his swinging beat, Bill is a charismatic drummer and skilled bandleader. He has been playing professionally since he was 13 years old. Bill graduated from the Boston Conservatory of Music where he mastered a range of percussion instruments. A knowledgeable music historian, Bill produces and narrates many original programs on all aspects of American popular music and jazz.